Dream Marriage's Russian Bride of the Day, Julia of Nikolaev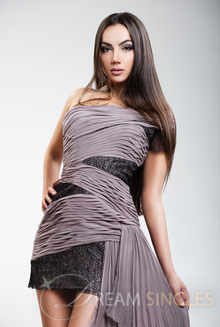 How about a piece of Pisces to go with your hump day, dreamers. Introducing today's featured single from the Dream Marriage international dating community, Юлия:
"My soul mate should be kind and attentive to me, sincere, open-hearted, sensitive and understanding but with a strong character, a real man. I would like him to be a gentleman in what he does and in the way he thinks."
At just 31 years young, our Russian Bride of the Day is yet another accomplished millennial with a graduate's degree notched in her belt. A resident of the Red Pieter of Ukraine, Nikolaev, Julia earns a living in finance. When she's not working however, Julia enjoys an active life as a weekend warrior, exercising in the morning and exploring during the day.
What's In A Name:
Юлия
She, too, is taller than your average-fare fair maiden. The 5'7 brown-eyed brunette bride from Nikolaev falls just short of yesterday's featured single, Lilia, but she's more woman than most of us will ever need. She's sweet; she's smart; she's good with money; and she's quite beautiful, wouldn't you agree?
Tips/Advice:
"Nothing Like the Love of a Good. Russian. Woman."
Your mission, should you choose to accept, is to log in and introduce yourself to Julia. Send her a message; invite her to chat; or send her a flirt even. Just get on her radar and let her know you are interested. If the feeling is mutual, she will connect with you online first and the perhaps you two may meet later on offline, like the dreamers in our Love Stories.
Visit Julia's personal profile page on the Dream Marriage online dating network simply by clicking either of the images included in this post. You should be redirected automatically. It should be noted however, that only registered members may access other member profiles so if you have not already…